Vacate Cleaning
Professional & quality cleaners servicing the Mornington Peninsula for over 13 years. We offer cleaning services for industrial, commercial & domestic premises within the Mornington Peninsula.
Let us take the stress out of moving house
Did your tenancy agreement come to an end? Are you busy moving out for bigger and better things in life? Give your worries and hassles of 'vacate cleaning' to us! 
We can handle every aspect of the vacate cleaning, from windows to carpets to cleaning out your dishwasher filter. We will guarantee your bond back from the cleaning! 
When you move out of a rented house, it is important to get vacate cleaning done by a professional company. Our vacate rental property cleaning is value for money and we offer part cleaning services or a full bond clean to ensure you get your full bond back.
We have the requisite experience and work off strict end of lease guidelines to make sure you get 100% bond back.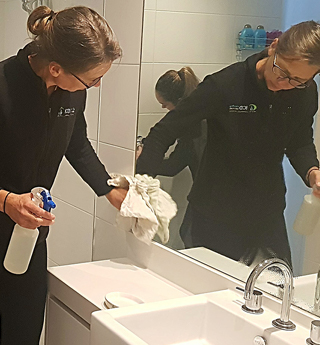 ✓ Kitchen
Cleaning of Dishwasher filter
Cleaning of Oven inside and out
Cleaning of Stove top and hobs
Cleaning of range hood vents
Cleaning of all drawers, cupboards and pantrys
Cleaning of fans
✓ Bathrooms
Cleaning and disinfecting toilet
Cleaning of mirrors
Cleaning of shower tiles, doors and plug holes
Cleaning of extractor fans
Cleaning of basin
Cleaning of all drawers
Cleaning of walls, skirting and window sills
✓ Window Cleaning
Cleaning of internal windows
Cleaning of external windows
Wiping of Flyscreens
✓ Bedrooms
Cleaning of wardrobes
Cobwebbing
Cleaning of walls. skirting and window sills
Cleaning of fans
✓ Living Rooms
Cleaning of walls
Cleaning of skirting boards and window sills
Dusting of cabinetry
Pull out and wipe fly screens
✓ Outdoor Area
✓ Laundry
Cleaning of all sinks
Cleaning of any appliances
Cleaning of drawers
Cleaning of walls, skirting and window sills
✓ Carpet Steaming
Steaming of all carpeted areas
Flea Bombing available on request
Get In Touch
Fill out the form or use the information below
Address
9/35 Progress Street
Mornington 3931 VIC
Phone Number
Susanne - 0409 173 687
Dieter - 0429 556 412
Address
9/35 Progress Street
Mornington 3931 VIC
Phone Number
Susanne - 0409 173 687
Dieter - 0429 556 412
Email
info@icdservices.com.au